Facilities and Location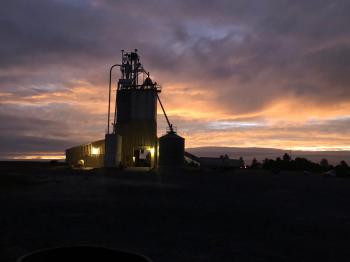 The CLRC simulates real-world production at a commercial feedlot. We have 48 soil-surfaced pens that can feed 960 animals at a time. Our feed mill is equipped with a steam flaker. We have 10 overhead bins for different commodities, and 2 roughage wagons outside the mill. All of them will feed into a mixer to mix different rations. An external mixer can also be used to high-moisture commodities that are common in the commercial industry. Our feed truck is set up with a feed box that can feed 6 different pens with different rations. We also can make our own mineral packages in the feed mill. The 48 soil-surfaced pens can house up to 20 animals each and are constructed from pipe, with fenceline concrete bunk, and one heated water tank per pen. There are also 32 individual pens.
The processing barn is set up with a "Bud box" with a Daniels squeeze chute where we process and get individual weights on the cattle as they go through the facility. As the cattle are processed we have 24 sort pens that we are able to sort the different treatments into.
The Research Center also has 120 acres under center pivot allowing research to be conducted from growing to finishing.
A metal, 40 × 120 foot shed contains a machine-repair shop and feed storage area. The office laboratory building provides office space, a conference room, as well as laboratories for nutrition research.
Map and Directions